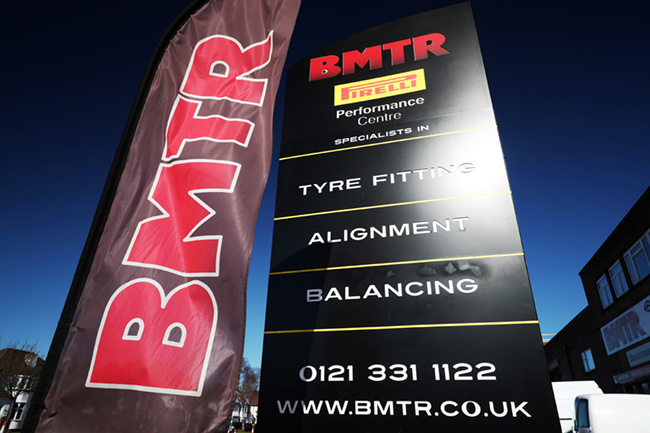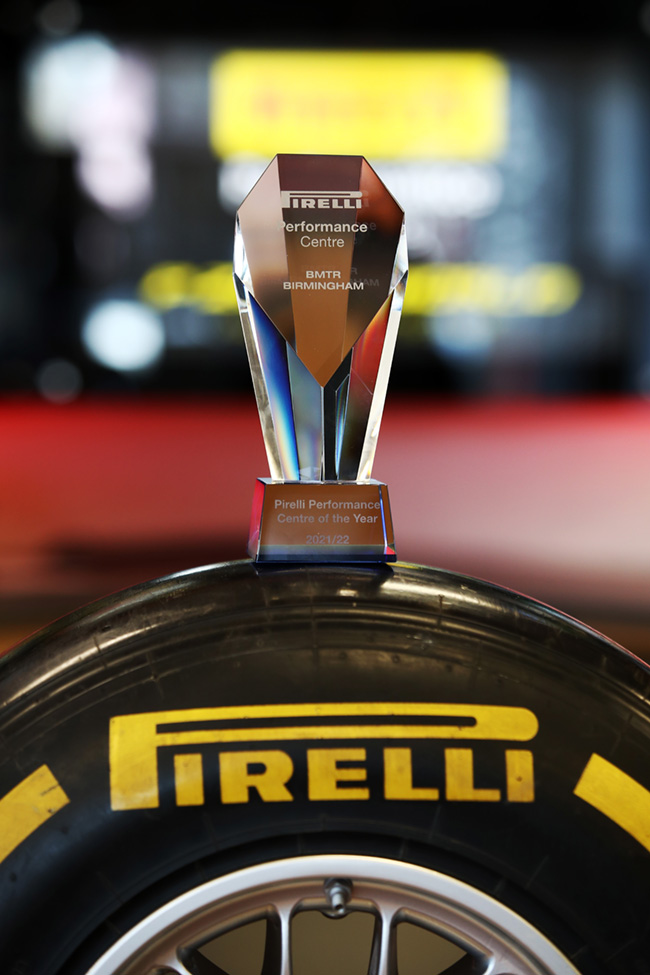 BMTR BIRMINGHAM AWARDED PIRELLI PERFORMANCE CENTRE OF THE YEAR
Pirelli is pleased to crown Birmingham Motor Tyres Ltd (BMTR) as Pirelli's Performance Centre of the Year for the fourth time in 2022/2023.
Pirelli Performance Centres (PPCs) are a network of carefully selected audited tyre dealers who share a focus on delivering the highest levels of technical proficiency and service to consumers. The network prides itself on offering the latest cutting-edge technology and expertise in recommending, fitting and balancing high-performance tyres, all under one roof.
The demanding criteria to remain in the network is constantly evolving and all dealers must complete a 130-point technical audit twice a year. This ensures that Pirelli can continue to provide and maintain the highest of standards for customers to rest assured they are receiving first-class care and attention.
With over 140 depots currently in the Pirelli Performance Centre network, it is a tremendous feat to be named PPC of the Year - and only one depot can win. To determine the winners, the top performing centres in the technical audit are subjected to a video mystery shop exercise, scored by an independent assessor.
Pirelli's PPC of the Year award is presented annually to the Pirelli Performance Centre that has demonstrated the best performance in a range of assessed areas. For this year's award, there were 19 PPCs who all achieved Platinum status during the audit and were therefore competing to be crowned PPC of the Year for 2022/2023. This marks a remarkable fourth win for BMTR Birmingham, having previously taken the title for two years running back in 2012/2013 and 2013/2014, before securing a return win in 2021/2022 and 2022/2023.
BMTR Birmingham is a leading provider of performance tyres and Pirelli's Performance Centre of the Year award recognises excellence in customer service, technical knowledge and business performance, providing customers with the highest quality experience. BMTR Birmingham can also take pride in their highly trained technicians who are passionate about delivering the best possible service to their customers, proven by securing their fourth PPC of the Year win.
Chris Woodhall, Sales Director BMTR, said: "To win this award for the fourth time really means a great deal to all at BMTR. We are incredibly proud of Craig Banning-Price and his team at the Perry Barr fitting centre for the consistently high standards that they are able to deliver to our loyal customers, day in, day out and to have won this award in consecutive years demonstrates that these standards are firmly engrained within the culture at BMTR.
"I would also like to thank the team behind the PPC network at Pirelli UK who do such a comprehensive and innovative job of driving fitting standards and customer service through initiatives such as the PPC network. This investment continues to benefit retailers and improve the consumer experience for all who choose to use their local PPC."
Pirelli UK Chairman and CEO Dominic Sandivasci, said: "We are delighted to recognise BMTR Birmingham as our Performance Centre of the Year for 2022/2023 and applaud their fourth award win. BMTR Birmingham has demonstrated a strong commitment to excellence in all areas of their business, from customer service to technical expertise. We are proud to have them as a partner and look forward to working together to continue delivering the best possible products and services to our customers. Congratulations once again to the entire team on this fantastic achievement."
BMTR has been a member of the Pirelli Performance Centre network for many years, offering wide range of high-performance tyres across Pirelli's product range. Founded in 1919, the company is renowned for its technical expertise and high-quality service.
BMTR Birmingham can be found at Walsall Road, Perry Barr, Birmingham B42 1TU, online at www.bmtr.co.uk or by telephone on 0121 331 1122. For further details on the Pirelli Performance Centre network, head to www.pirelli.co.uk/ppc.
P ZERO™ (PZ4)
The perfect fit for every car performance
P ZERO™ is the unique Ultra High Performance product combining Pirelli's knowledge gained from competitive Motorsport with Pirelli's alliance with the top car manufacturers, granting the perfect fit for the performance of each car.
P ZERO™
Sporting performance for every vehicle
A milestone in the development of the Pirelli range, P ZERO™ has been chosen as original equipment for the most performance oriented and powerful models on the market. Its asymmetric tread pattern improves braking performance and enhances handling and control.
P ZERO™ CORSA
Extreme performance for road and track
The P ZERO™ CORSA is a tyre that brings the best of motorsport technology both on the road and on tracks. Developed in association with leading vehicle manufacturers in the high performance sector, it is perfect in every road surface.
P ZERO™ CORSA SYSTEM
Maneuverable and safe on both road and tracks
P ZERO™ CORSA SYSTEM is the most sporting tyre in the road car range. Developed by Pirelli together with supercar manufacturers for both road and track use, on models directly derived from their motorsport counterparts.
P ZERO™ ROSSO
Perfect comfort during sport
Engineered to match with all the electronic traction and stability control systems, P ZERO™ ROSSO is the ideal choice for sports on vehicles with medium-high displacement. The perfect balance between performance and comfort thanks to an exemplary steering precision on dry and wet
P ZERO™ NERO GT
Long lasting sport performance
P ZERO NERO™ GT is the UHP tyre for consumers who want to fit Pirelli on their medium-large sedans and sporty cars. Materials and tread design have been optimised, the compound has a balanced content of silica in order to enhance wear resistance without compromising the sportive feeling of the product in both dry and wet conditions.
CINTURATO P7™ (P7C2)
Safety, efficiency, sustainability and technology at outstanding levels for the future generation of cars
NEW CINTURATO P7™ is the latest Pirelli Summer high-performance tyre for premium cars and crossovers with a strong foxcus on wet performances, mileage and rolling resistance. These features are perfectly balanced, making the new Cinturato the first choice for the best car manufacturers.
CINTURATO P7™
Safety and respect of environment
Pirelli's first 'Green Performance' tyre, CINTURATO P7™ is a perfect combination of low rolling resistance, plastic and acustic comfort and good mileage. This is made possible by advanced compounds, a specific structure and tread pattern design. This also guarantees excellent braking and handling performances.
CINTURATO P7™ BLUE
Drive longer and brake in less space
Thanks to recent innovations and new materials, Pirelli has introduced the further improved CINTURATO P7™ BLUE bringing a wide range of dual-class-A sizes to the market. Pirelli's first Green Performance tyre, the CINTURATO P7™ was designed and created to get the most out of latest-generation materials, structure and tread design, and to guarantee savings, respect for the environment, comfort and safety.